Keilmuan Pendidikan Agama Kristen
Keywords:
Keilmuan, Pendidikan Agama Kristen
Abstract
Pendidikan Agama Kristen terus berkembang dan dilaksanakan dari
generasi ke generasi bukan hanya karena perintah Tuhan semata-mata
(Ul.6), tetapi menjadi suatu kebutuhan bagi gereja dan perlu juga di
selenggarakan di sekolah. Keberlanjutan pendidikan ini membuktikan
bahwa pelaksanaan pendidikan ini bukan hanya karena perintah Tuhan
seperti disebutkan di atas tetapi karena pendidikan Kristen memenuhi kriteria sebagai ilmu, yang dapat dipelajari keabsahannya. Pembahasan
keilmuan pendidikan Agama Kristen meliputi hakekat dan ciri-ciri suatu
subyek pelajaran dikatakan sebagai ilmu, dalam hal ini pendidikan
Agama Kristen. Dalam penelitian ini juga akan menyinggung hubungan
pendidikan Agama Kristen dan ilmu filsafat khususnya secara Kristen
dan juga membuktikan landasan Alkitab yang dipakai dalam pendidikan
Kristen. Hasil penelitian terhadap keilmuan pendidikan Agama Kristen
sebagai berikut: Pertama, pendidikan Kristen adalah Suatu Ilmu, yaitu
memiliki Obyek peserta didik, metode, yaitu metode induktif yang
adalah suatu metode yang tepat yang dapat dipakai untuk mempelajari
Alkitab guna mendapatkan kebenaran dan penyajian kebenaran. Syarat
suatu ilmu yang tidak boleh dilupakan adalah menyajikan kebenaran,
dan kebenaran tersebut harus siap dan dapat diuji. Alkitab sebagai
bahan sumber ajar telah memenuhi hal ini. Alkitab menyajikan
kebenaran yang dapat diuji secara natural maupun supranatural.
Kedua, pandangan Para Tokoh Pendidikan Kristen memberikan
kesimpulan bahwa Alkitab adalah sumber yang dapat dipakai sebagai
bahan penyelidikan bagi filsafat pendidikan Kristen yang teruji
menyajikan kebenaran. Ketiga, Alkitab menjadi landasan Keilmuan
Pendidikan Agama Kristen, yaitu nats dalam 2 Timotius 3:16, yang
berbunyi, "Segala tulisan yang diilhamkan Allah memang bermanfaat
untuk mengajar, untuk menyatakan kesalahan dan untuk memperbaiki
kelakuan dan untuk menyatakan dan untuk mendidik orang dalam
kebenaran." Nats tersebut memberikan pernyataan yang jelas dan
tegas mengenai keilmuan pendidikan Kristen menyatakan theoria,
praksis dan poiesis bukan hanya kata-kata dalam nats tersebut, tetapi
keseluruhan segala tulisan yang diilhamkan Allah, yaitu Kitab Suci atau
Alkitab itu sendiri.
References
Beerling, Kwee, Mooij dan Van Peursen, Pengantar Ilmu Filsafat. Diterjemahkan oleh Soejono Soemargono. Yogyakarta: Penerbit Tiara Wacana, 1986.
Boehlke, Robert R.. Sejarah Perkembangan Pikiran dan Praktek PAK. Jilid 1 dan 2. Jakarta: BPK Gunung Mulia, 2003.
Cully, Iris.V. Dinamika Pendidikan Kristen. Diterjemahnkan oleh P Siahaan dan Stephen Suleeman. Jakarta: PT BPK Gunung Mulia, 2009.
Enklaar, I.H. dan E.G.Homrighausen. Pendidikan Agama Kristen. Jakarta: BPK Gunung Mulia, 2011.
Groome, Thomas H. Christian Religious Education, Pendidikan Agama Kristen. Jakarta: BPK Gunung Mulia, 2011.
Smith, Linda dan William Raeper. "Dimanakah Kedudukan Kitab Suci?" dalam Ide-Ide Filsafat dan Agama Dulu dan Sekarang. Yogyakarta: Penerbit Kanisius, 2007.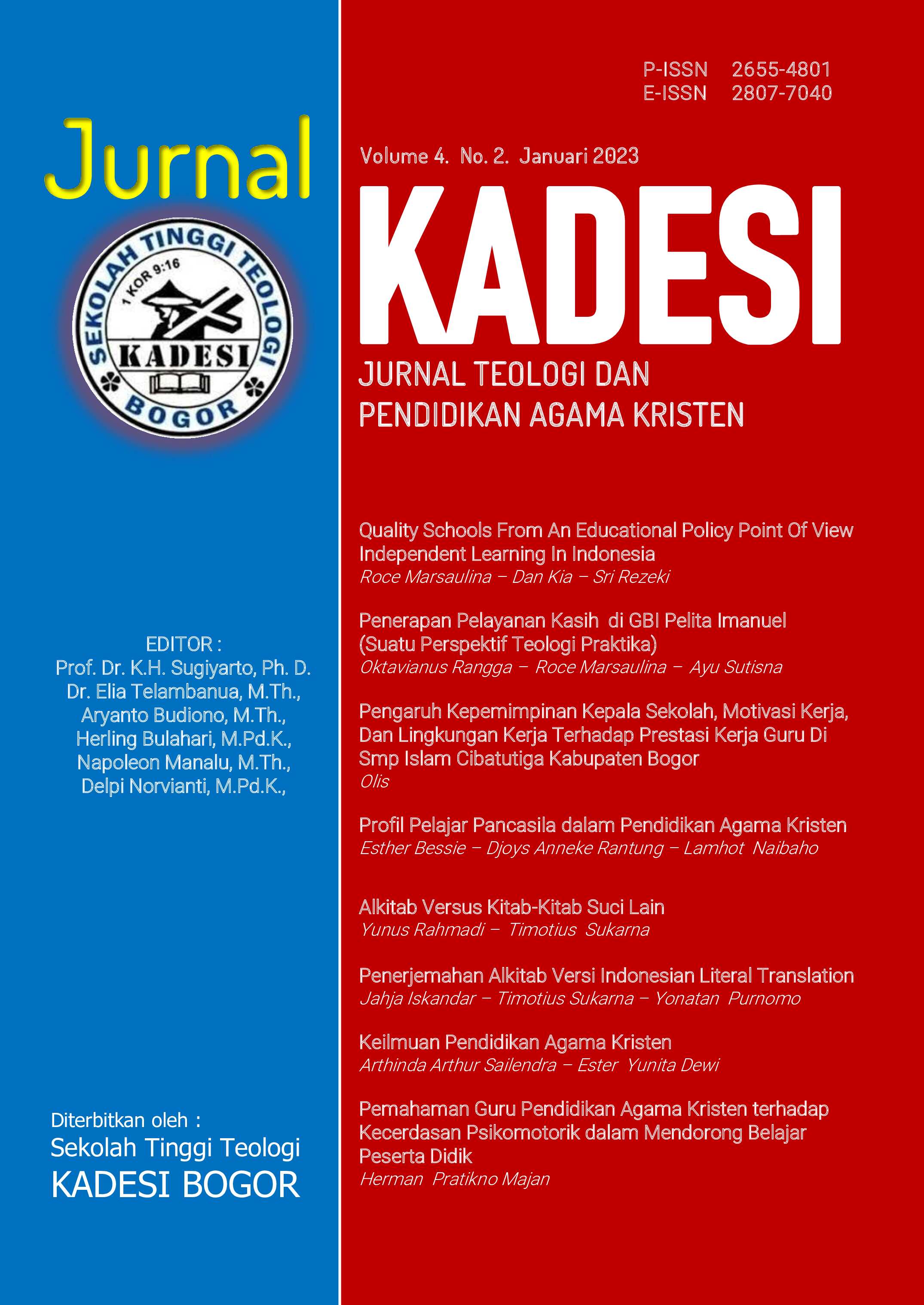 Downloads
How to Cite
Sailendra, A. A., & Dewi, E. Y. . (2023). Keilmuan Pendidikan Agama Kristen. JURNAL KADESI, 4(2), 1-20. Retrieved from http://ejournal.sttkb.ac.id/index.php/kadesibogor/article/view/32
License
Copyright (c) 2023 JURNAL KADESI
This work is licensed under a Creative Commons Attribution-ShareAlike 4.0 International License.
Open Access Policy & License
All research articles published in JURNAL KADESI: Jurnal Teologi dan Pendidikan Agama Kristen are fully open access: immediately freely available to read, download and share. Articles are published under the terms of a Creative Commons Attribution-ShareAlike 4.0 International License which permits use, distribution and reproduction in any medium, provided the original work is properly cited.
Definition of Open Access Publication from Bethesda Statement on Open Access Publishing: An Open Access Publication [1] is one that meets the following two conditions:
The author(s) and copyright holder(s) grant(s) to all users a free, irrevocable, worldwide, perpetual right of access to, and a license to copy, use, distribute, transmit and display the work publicly and to make and distribute derivative works, in any digital medium for any responsible purpose, subject to proper attribution of authorship, as well as the right to make small numbers of printed copies for their personal use.
A complete version of the work and all supplemental materials, including a copy of the permission as stated above, in a suitable standard electronic format is deposited immediately upon initial publication in at least one online repository that is supported by an academic institution, scholarly society, government agency, or other well-established organization that seeks to enable open access, unrestricted distribution, interoperability, and long-term archiving.

This work is licensed under a Creative Commons Attribution-ShareAlike 4.0 International License.