Penerapan Pelayanan Kasih Di GBI Pelita Imanuel
(Suatu Perspektif Teologi Praktika)
Keywords:
Penerapan Kasih; Pelayanan Pastoral; Diakonia
Abstract
Gereja dipanggil untuk melayani Tuhan Juruselamat-Nya dan memberitakan Injil tentang kedatangan Yesus Kristus sebagai Juruselamat. Dan hal ini gereja juga hadir menjalankan misinya untuk menerapkan kasih Kristus di tengah-tengah kesulitan. Gereja dalam dirinya menyadari akan adanya panggilannya di tengah-tengah dunia sepanjang zaman untuk mewujud kasih Allah melalui tindakan nyata. Penulis menggunakan metode kualitatif yang sacara langsung di lapangan (Penelitian lapangan) dan penulis menggunakan teknik pengumulan data melalui studi literatur baik dari buku, maupun jurnal. Pelayanan kasih merupakan sebuah sarana atau cara dari gembala kepada jemaat untuk dapat memberikan bimbingan. Pelayan kasih bukan sekedar kata, ataupun berbagi karena memiliki kelebihan secara ekonomi. Gereja bagian dalam pelaksanaan tugas tidak boleh berhenti hanya kepada mereka yang percaya (Galatia 6:10) tetapi juga di luar orang percaya (Roma 5:6-8). Jadi panggilan gereja adalah garam dan terang ditengah-tengah masyarakat (Matius 5:16). Hal inilah gereja terus mendampingi jemaatnya untuk menuntun disetiap kehidupan mereka menuju jalan kebenaran dan keselamatan. Gereja perlu melihat kebutuhan umat dari dua sudut pandang, yaitu kebutuhan spiritual dan kebutuhan material. Iman yang harus tercermin dalam tindakan praktis, seperti menjangkau mereka yang membutuhkan pertolongan.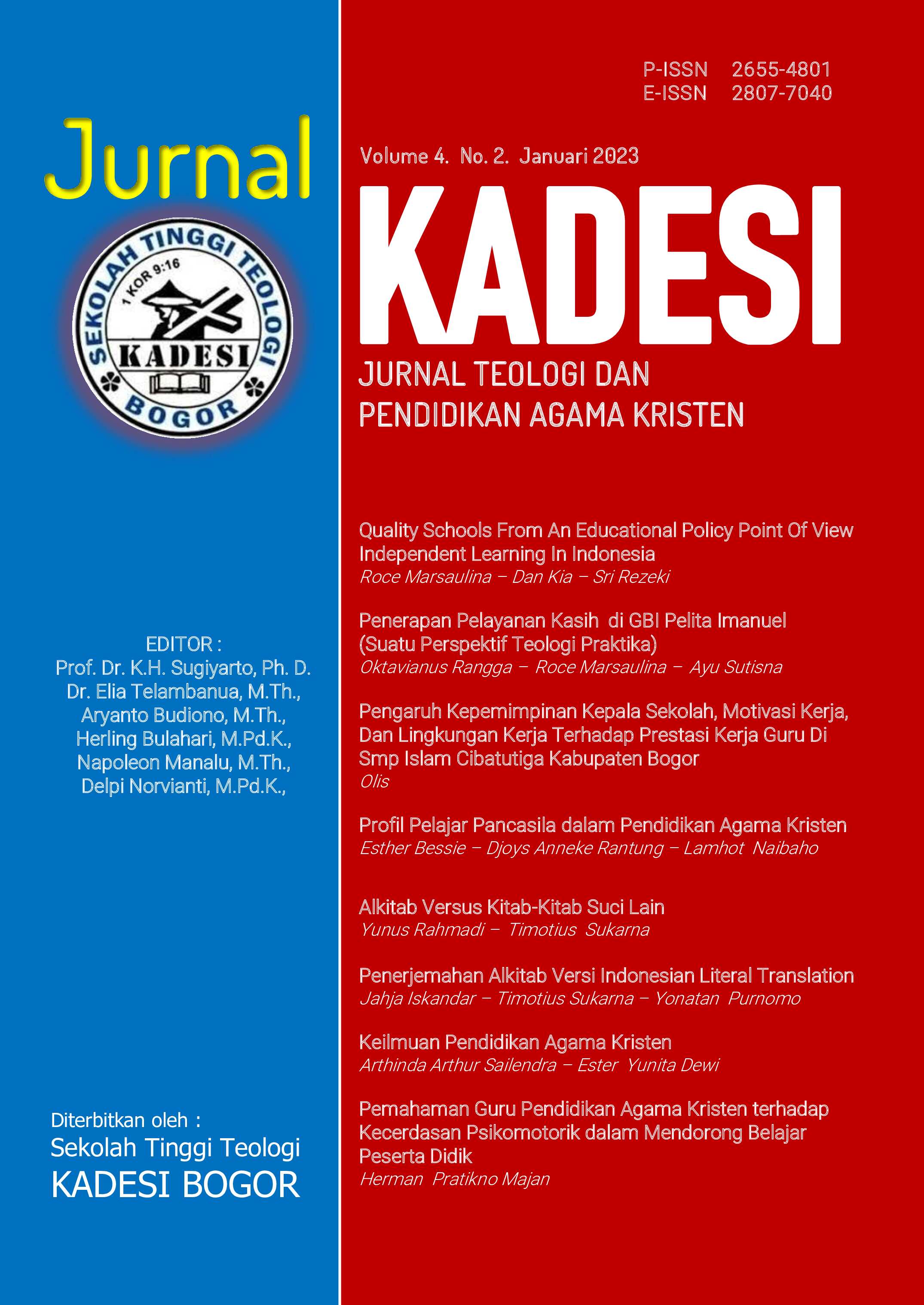 Downloads
How to Cite
Rangga, O., Marsaulina, R., & Sutrisna, A. (2023). Penerapan Pelayanan Kasih Di GBI Pelita Imanuel : (Suatu Perspektif Teologi Praktika). JURNAL KADESI, 4(2), 47-66. Retrieved from http://ejournal.sttkb.ac.id/index.php/kadesibogor/article/view/34
License
Copyright (c) 2023 JURNAL KADESI
This work is licensed under a Creative Commons Attribution-ShareAlike 4.0 International License.
Open Access Policy & License
All research articles published in JURNAL KADESI: Jurnal Teologi dan Pendidikan Agama Kristen are fully open access: immediately freely available to read, download and share. Articles are published under the terms of a Creative Commons Attribution-ShareAlike 4.0 International License which permits use, distribution and reproduction in any medium, provided the original work is properly cited.
Definition of Open Access Publication from Bethesda Statement on Open Access Publishing: An Open Access Publication [1] is one that meets the following two conditions:
The author(s) and copyright holder(s) grant(s) to all users a free, irrevocable, worldwide, perpetual right of access to, and a license to copy, use, distribute, transmit and display the work publicly and to make and distribute derivative works, in any digital medium for any responsible purpose, subject to proper attribution of authorship, as well as the right to make small numbers of printed copies for their personal use.
A complete version of the work and all supplemental materials, including a copy of the permission as stated above, in a suitable standard electronic format is deposited immediately upon initial publication in at least one online repository that is supported by an academic institution, scholarly society, government agency, or other well-established organization that seeks to enable open access, unrestricted distribution, interoperability, and long-term archiving.

This work is licensed under a Creative Commons Attribution-ShareAlike 4.0 International License.