PEMAHAMAN GURU PENDIDIKAN AGAMA KRISTEN TERHADAP KECERDASAN PSIKOMOTORIK DALAM MENDORONG BELAJAR PESERTA DIDIK
Keywords:
Pemahaman guru; Pendidikan Agama Kristen; Kecerdasan Psikomotorik
Abstract
Gaya mengajar seorang guru sangat penting untuk menumbuhkan minat belajar peserta didik, dengan minat belajar itu akan menumbuhkan kecintaan pada mata pelajaran yang diikutinya, selanjutnya akan menghasilkan nilai yang baik. Guru yang memahami gaya belajar peserta didik akan menumbuhkan sinergi untuk terciptanya suasana belajar dan mengajar, kondisi yang tercipta itu akan merangsang peserta didik. Hasil positif yang dapat dicapai dengan gaya mengajar itu adalah: Pertama, gaya mengajar guru merupakan suatu cara untuk mempermudah bagi peserta didik dalam rangka menerima materi pelajaran yang disampaikan, sekaligus sebagai alat untuk mengatasi kebosanan siswa dan meningkatkan minat belajar peserta didik dalam menerima pelajaran.Kedua, gaya mengajar guru akan menimbulkan kecerdasan psikomotorik yaitu: kemampuan general manusia untuk melakukan tindakan- tindakan yang mempunyai tujuan dan berpikir dengan cara rasional atau keterampilan untuk memecahkan masalah-masalah yang ada. Gaya mengajar guru yang kreatif, inspiratif dan inovatif akan menghasilkan peserta didik yang mempunyai gaya belajar yang handal dan mampu menghadapi masa depannya. Gaya mengajar guru harus mengajar dengan gaya belajar perserta didiknya. Adapun Tujuan dari pemaparan ini adalah sejauh mana gaya mengajar guru terhadap gaya belajar peserta didik dan memberikan penjelasan kepada peserta didik bahwa pentingnya memiliki kecerdasan psikomotorik yang baik, karena dengan memiliki kecerdasan psikomotorik yang baik maka akan membentuk kehidupan pribadi seseorang yang membawa dampak positif.
References
Abineno, J.L.Ch. Tafsir Alkitab Surat Efesus. Jakarta: BPK Gunung Mulia, 2003.
Agustian, Mubiar. Pembelajaran Berbasis Kecerdasan Jamak Di SD. Yogyakarta: Budi Utama, 2017.
Covey, Stephen R. The 8th Habith Melampaui Efektifitas Menggapai Keagungan, n.d.
Duhu, Timotius. Perilaku Organisasi. Yogyakarta: CV. Budi Utama, 2016.
Gunning, J.J.W. Tafsir Alkitab Surat Galatia. Jakarta: BPK Gunung Mulia, 2003.
Idrus, Enjang. Jurus Menuju Kesuksesan Abadi. Guepedia, 2016.
Majid, Abdul. Perencanaan Pembelajaran. Bandung, 2012.
Nana, Syaodih S. Perencanaan Pengajaran. Jakarta, 2010.
Nasional, Departemen Pendidikan. Kamus Besar Bahasa Indonesia. Keempat. Jakarta: PT. Gramedia Pustaka Utama, 2014.
Priyanto, Anang. Pendidikan Kewarganegaraan. Jakarta, 2008.
Sadi, M. Pengantar Ilmu Hukum. Jakarta: Kencana, 2015.
Satori, Djaman. Profesi Keguruan. Jakarta, 2010.
Setia, Budi Hengki Irawan. Realation Ships Success and Happiness. Jakarta: Gramedia, 2011.
Sinamo, Jansen. Keguruan. Bandung, 2012.
Sirait, Rajiman Andrianus. "Kajian Dogmatis Tentang Baptisan Roh Kudus." Luxnos 7, no. 2 (2021): 186–199.
Soedarmo, R. Ikhtisar Dogmatika. Jakarta: BPK Gunung Mulia, 2015.
Sudjamiko, Budiman. Anak-Anak Revolusi. Jakarta: Gramedia Pustaka, 2013.
Sukidi. Kecerdasan Spiritual. Jakarta, 2004.
Sutrisna, Ayu. Teori-Teori Belajar Dalam Pembelajaran. Bogor, 2016.
W, Santrock Jonh. Adolescence. Jakarta: Erlangga, 2003.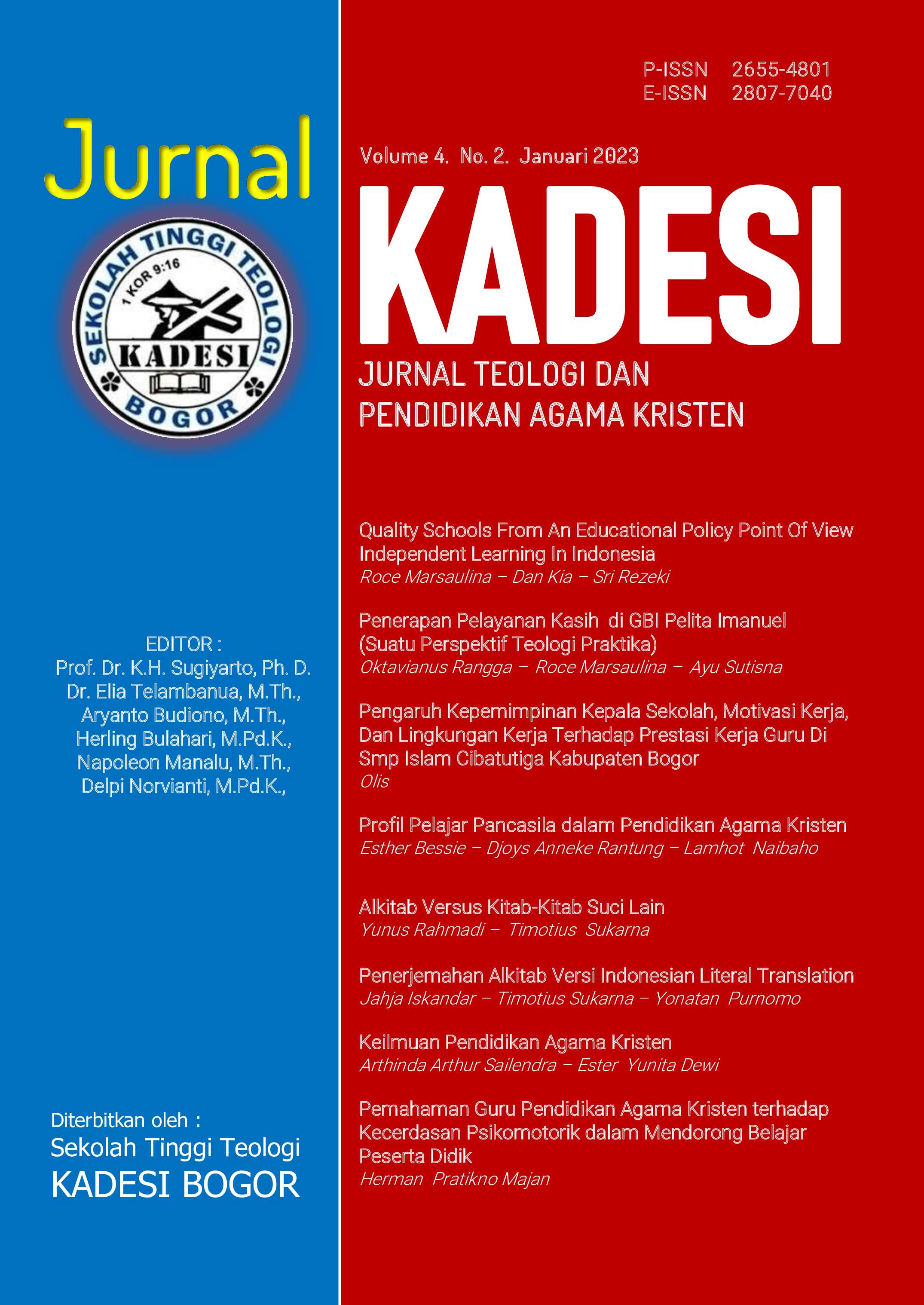 Downloads
How to Cite
Madjan, H. P. (2023). PEMAHAMAN GURU PENDIDIKAN AGAMA KRISTEN TERHADAP KECERDASAN PSIKOMOTORIK DALAM MENDORONG BELAJAR PESERTA DIDIK. JURNAL KADESI, 4(2), 173-198. Retrieved from http://ejournal.sttkb.ac.id/index.php/kadesibogor/article/view/47
License
Copyright (c) 2023 JURNAL KADESI
This work is licensed under a Creative Commons Attribution-ShareAlike 4.0 International License.
Open Access Policy & License
All research articles published in JURNAL KADESI: Jurnal Teologi dan Pendidikan Agama Kristen are fully open access: immediately freely available to read, download and share. Articles are published under the terms of a Creative Commons Attribution-ShareAlike 4.0 International License which permits use, distribution and reproduction in any medium, provided the original work is properly cited.
Definition of Open Access Publication from Bethesda Statement on Open Access Publishing: An Open Access Publication [1] is one that meets the following two conditions:
The author(s) and copyright holder(s) grant(s) to all users a free, irrevocable, worldwide, perpetual right of access to, and a license to copy, use, distribute, transmit and display the work publicly and to make and distribute derivative works, in any digital medium for any responsible purpose, subject to proper attribution of authorship, as well as the right to make small numbers of printed copies for their personal use.
A complete version of the work and all supplemental materials, including a copy of the permission as stated above, in a suitable standard electronic format is deposited immediately upon initial publication in at least one online repository that is supported by an academic institution, scholarly society, government agency, or other well-established organization that seeks to enable open access, unrestricted distribution, interoperability, and long-term archiving.

This work is licensed under a Creative Commons Attribution-ShareAlike 4.0 International License.