Alkitab versus Kitab-Kitab Suci Lain
Keywords:
Indonesia, Enam Agama, Kitab Suci, Alkitab
Abstract
Indonesia adalah negara besar yang memiliki pluralisme yang tinggi, dengan adanya penduduk yang beraneka ragam suku, budaya, ras dan agamanya. Sebagai negara pluralis seperti itu, Indonesia dapat dipersatukan oleh dasar negara Pancasila. Sila pertama dari Pancasila menegaskan, bahwa Indonesia merupakan negara yang berketuhanan. Sebagai negara yang bertuhan, setiap warga negara berhak untuk memeluk agama sesuai dengan keyakinannya masing-masing; Ada enam agama yang diakui oleh pemerintah, yaitu: Islam, Kristen, Katolik, Budha, Hindu, Konghucu. Dengan mayoritas pemeluk adalah Islam, kemudian disusul dengan agama Kristen dan Katolik dan lainnya; Tentunya akan menjadi pengetahuan yang menarik kalau kita memiliki sedikit pemahaman mengenai kitab-kitab suci enam agama yang ada di Indonesia tersebut. Itulah yang menjadi alasan penulis mengambil topik penelitian ini.; Pada karya tulis ini, saya akan memaparkan tentang perbandingan antara Alkitab sebagai kitab suci agama Kristen dan Katolik, dengan kitab-kitab suci agama lainnya. Tentunya dengan lebih menekankan pendalaman tentang Alkitab, sebagai kitab suci agama yang penulis yakini. Di samping itu, pembahasan secara mendalam terhadap kitab suci agama lain tentunya akan mengandung sensitifitas yang tinggi bagi pemeluknya; Dari hasil penelitian yang penulis lakukan menunjukkan, bahwa Alkitab lebih superior, karena Alkitab adalah wahyu Allah. Ditulis apa adanya, tanpa ada yang ditutup-tutupi, memiliki puluhan ribu salinan dari berbagai zaman, saling menguatkan, tidak ada perubahan dalam Alkitab, dan masih banyak lagi kelebihan-kelebihan Alkitab dibanding kitab suci lainnya.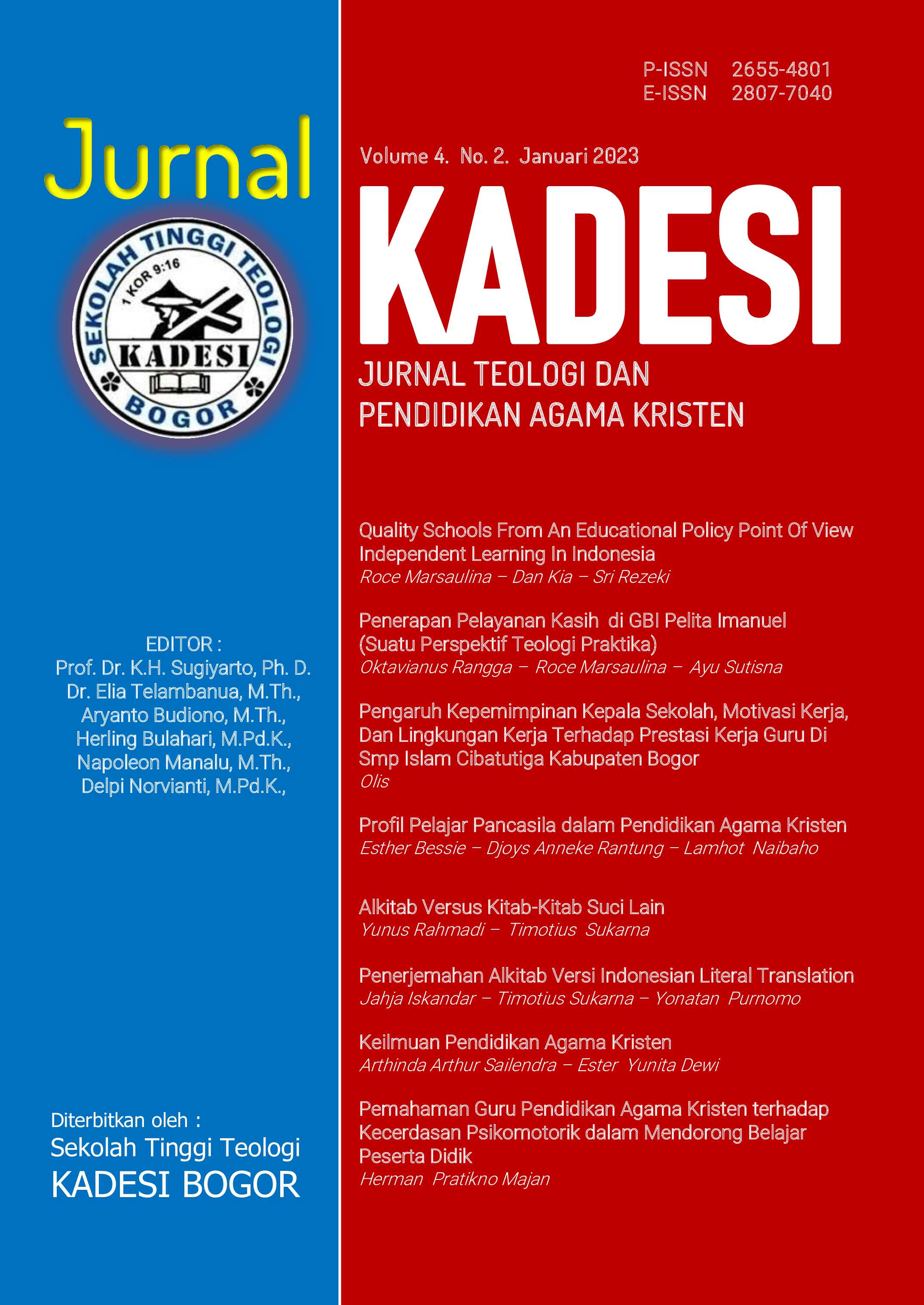 Downloads
How to Cite
Rahmadi, Y., & Sukarna, T. (2023). Alkitab versus Kitab-Kitab Suci Lain. JURNAL KADESI, 4(2), 121-144. https://doi.org/10.54765/ejurnalkadesi.v4i2.43
License
Copyright (c) 2023 JURNAL KADESI
This work is licensed under a Creative Commons Attribution-ShareAlike 4.0 International License.
Open Access Policy & License
All research articles published in JURNAL KADESI: Jurnal Teologi dan Pendidikan Agama Kristen are fully open access: immediately freely available to read, download and share. Articles are published under the terms of a Creative Commons Attribution-ShareAlike 4.0 International License which permits use, distribution and reproduction in any medium, provided the original work is properly cited.
Definition of Open Access Publication from Bethesda Statement on Open Access Publishing: An Open Access Publication [1] is one that meets the following two conditions:
The author(s) and copyright holder(s) grant(s) to all users a free, irrevocable, worldwide, perpetual right of access to, and a license to copy, use, distribute, transmit and display the work publicly and to make and distribute derivative works, in any digital medium for any responsible purpose, subject to proper attribution of authorship, as well as the right to make small numbers of printed copies for their personal use.
A complete version of the work and all supplemental materials, including a copy of the permission as stated above, in a suitable standard electronic format is deposited immediately upon initial publication in at least one online repository that is supported by an academic institution, scholarly society, government agency, or other well-established organization that seeks to enable open access, unrestricted distribution, interoperability, and long-term archiving.

This work is licensed under a Creative Commons Attribution-ShareAlike 4.0 International License.